So, I decided it was time for a new desk.  I spent a lot of time on the internet and Pinterest looking for ideas.  I thought about an industrial design, or up-cycling found objects.  I decided that I wanted to build a vintage desk, styled from this one that can be seen on "brown dress with white dots".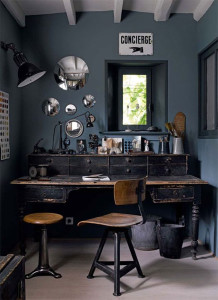 I really like the vintage feel. My version has a desk top made from recycled cyprus barn boards, and reclaimed table legs. I've cleaned the lumber, planed it, ripped and jointed it. This stuff is HEAVY! I glued it up for the top (3 Ways to Glue Up a  Panel).  I left the screw holes, worm holes and milling marks, for a rustic feel.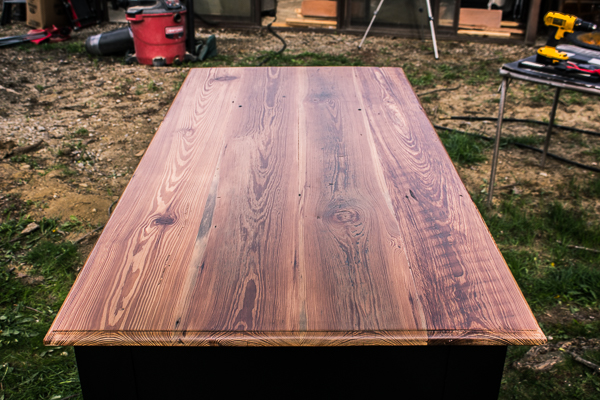 If you are thinking about doing this, but don't want to try creating a panel, a desktop made from cabinet grade plywood (maybe cherry or maple wrapped with solid wood banding) would work too. I might also consider a butcher block panel from Ikea or a big box store.
I squared the panel ends using the straight edge jig I built earlier and my skill saw.  Then I routed an edge profile on the panel to finish it up.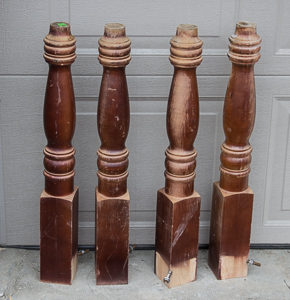 The legs are from a table that I found for $5 in a 2nd hand store. I'm always looking for interesting table legs on old tables. You can buy new legs online, or you can make them, but you can't beat thrift store, or flea market,  prices, and they have great character for a vintage look.
The skirt and drawers are made of Aspen from the local big box store. This was the most expensive material option of the project, but it was defect free.  I could have used pine, or cabinet grade plywood, but I am happy with this choice.
I designed the desk with two side drawers and a keyboard drawer.  Of course this could be a great writing desk without drawers, or a just a keyboard drawer, or even as an idea for a table.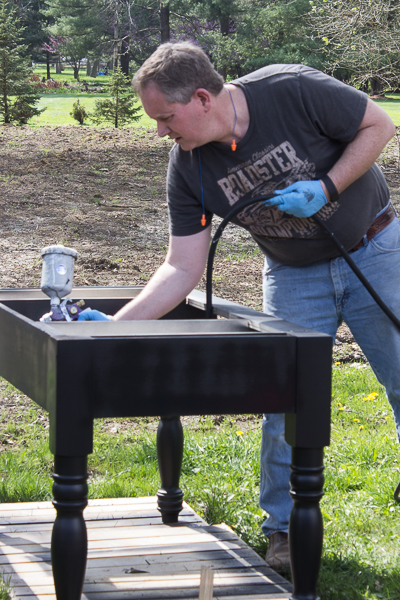 I finished the top with satin polyurethane, and the base was sprayed with a black semi-gloss paint.  Then I antiqued it by distressing the legs and around the drawers.
So, there it is, my new writing desk.  I would love to hear your thoughts, so leave a comment and subscribe for my newsletter!
Related Posts: