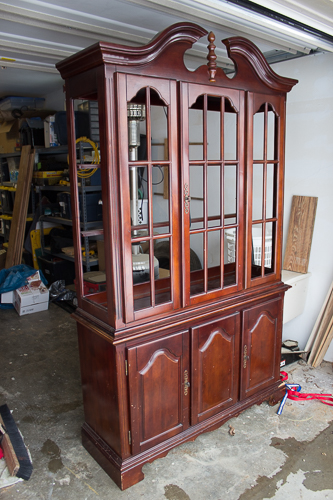 The China Hutch Experiment is our latest project in distressed furniture.  We found it on Craigslist for $20. It needed a few minor repairs, but everything was there, no broken glass and no missing parts!  (This is no antique, it is a cheap Chinese knock off, so we're not "ruining" anything) After cleaning,  and sanding it, I sprayed it with a couple of coats of light blue paint.
Then I started distressing it.  With distressed furniture, don't get carried away, a little goes a long way in creating the look you want. The first step was to "rub through" to the original finish.
Next I added age & color with stain.  This can be done with paints and glazes as well. Add the color where you want it, and wipe it off where you don't.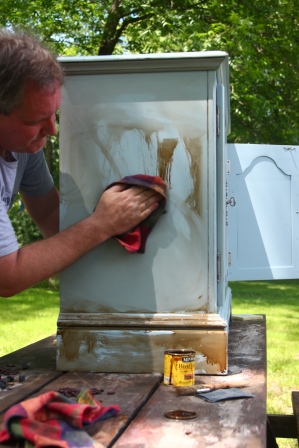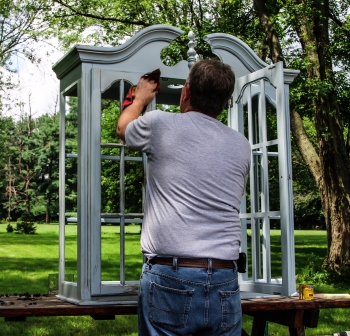 While I like the look of chalk paint  and mud paint, the prices don't thrill me. So I used satin latex paint, and common stains. I think it turned out quite nice.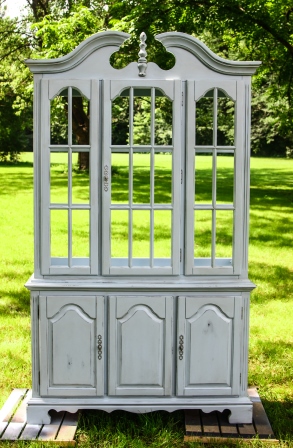 Here is a finished shot in the booth at our Peddlers Mall. By the way, both the hutch and the little black table and chairs (also repainted) sold the first day! Now she's excited by what we can do…