Recently a friend asked me to design and build a hall tree for her entryway. Her husband farms, and she was tired of his muddy boots on her floors! She sent me some pins (Pinterest) of what she was thinking. I designed the piece two different ways for her using Google Sketchup. One as a corner unit, the other as a single bench.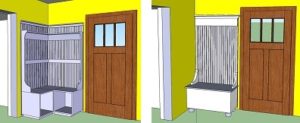 Google Sketchup is a free drawing software package, that is fairly quick to to learn (lots of tutorials on Youtube). This was my first time using it, normally I draw my plans by hand, or with AutoCad. Using something like Sketchup lets you work out a lot of details before you ever start cutting wood. For example, getting the crown molding right, or deciding what the bracket for the seat should look like. Also, for most of us, it is much easier to "see" in 3d, instead of seeing it in a normal drawing view.
Because this is a painted piece, I chose to use cabinet grade plywood for the bench box. The corners of the box are mitered, with 1″x1″ reinforcing blocks glued and screwed inside, to help support an adult's weight. Take your time setting up the table saw for this type of joint, getting everything square, and the corner joints will be tight.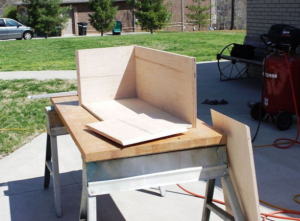 The seat is a combination of plywood and pine, with the edges wrapped with screen molding. This means there are now plywood edges to be seen.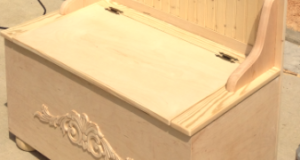 Because I have the tools, and the raw lumber, I chose to build the frame for the back from maple. I jointed and planed the boards to size, followed by creating the mortise and tenon joints and a dado for the bead board for the back panel.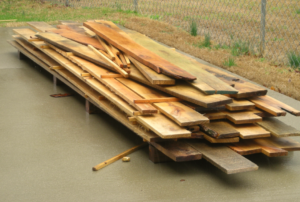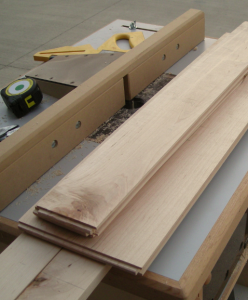 I glued the frame together, and clamped it overnite. The bead board was inserted and pinned in place. The bead board locks together on the edges greatly helping with alignment for the long haul.
Next I focused on the crown molding, realizing after I had it wrapped nicely around the top, that it would be too wide to fit into its planned location. So I redid it flush to the panel edges.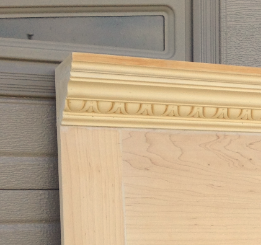 I bolted the back to the box, so it could be removed for shipment, or re purposing of the box later.
The corner brackets are cut using a bandsaw (or jig saw or even a coping saw). these were made from 2×12 and screwed to the back and the box top.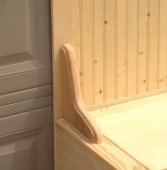 Once the applique was glued to the front and the feet added to the bottom, it was time to paint!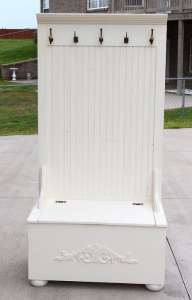 I sprayed the entire unit with a white base coat. I used an inexpensive HVLP gun from Harbor Freight.
The next day I antiqued it with stain. I brushed it on, and wiped it off, trying to give it the aged look our friend had asked for. Once dry I added the hinges and we delivered the piece to her home.