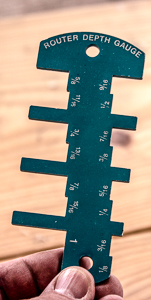 When it comes time to set you router bit to a specific height, how do you do it?  Tape measure?  Carpenters square? Eyeball it?
There are several gauges and fixtures that you can buy, or make.  I am going to review the small, but effective "Router Depth Gauge." from Rockler. There are similar products from other vendors
The gauge is just a small piece of aluminum, with milled out areas at specific heights, on 1/16″ increments.  All you need to do is place at least two legs on your base and adjust your depth up and down until the bit just touches the gauge.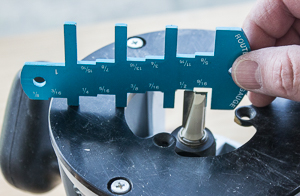 This gauge also works well for setting blade heights on your tablesaw.  Because the gauge is made of aluminum, it won't damage your router bits or saw blades.
The only limitation I see with this gauge (if it is one), is it's inabilty to help with anything other than it's preset heights on 1/6″ increments.
I believe this to be a decent gauge, at a decent price.  It is small enough to fit in your pocket, or stored with your router wrenches.
I have not been paid for this review, and I purchased the jig for my own use.
Do you have a favorite gauge for setting heights?  Drop me a note and let me know what you think.
Please subscribe to my newsletter and stay updated on all the news!
Related Postings: