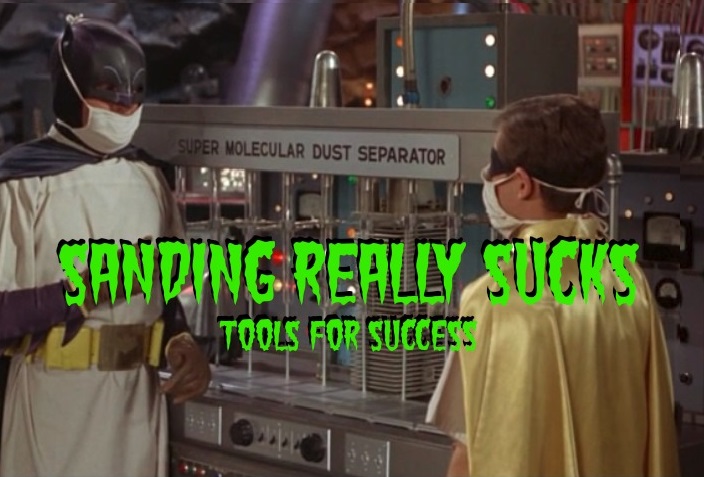 Sanding sucks!  But it's essential for finishing a project that looks and feels great.  If you get it wrong, a great piece can look like junk.
There are a lot of options in tools to help get the job done, from hand sanding with a cork block to belt sanders and detail sanders.  You also have a lot of paper grits to consider, from 36 grit to well over 4000 (gotta love automotive finish papers!)  All these options can get confusing.
Here is a quick run down on some of the more popular equipment to choose from, tools for sanding success:
Hand sanding:
Use a cork or rubber block and sheet sandpaper to smooth things out .  Look for sanding block kits with funny shaped blocks.  They are great when you need to get into the small details.
Sanding sponges are a bit more expensive, but a simple alternative to a sanding block.
Use a dowel wrapped in sandpaper to shape the inside of curves and holes.
For edges and contours, fold your sandpaper, hold it in your hand, bend it to match the profile and go to town.
Power sanding:
A 5″ random-orbit sander is my go to power sanding tool, 90+% of the time.  They work best on the face or flats of boards/panels, but with care it can be used on edges too.  If you find that you are rounding the edges, clamp boards on each side to create a wider surface.  I have used several over the years, and really like the DeWalt D26451. It's decently priced and does a good job.
For the final finishing passes, a finishing sander can do a great job.  It is less likely to leave swirl marks, and uses normal sandpaper sheets.
For flattening glue ups, or removing a lot of material fast, try a belt sander.  They come in a variety of widths.  This should not be your first sander, but it does come in handy at times.
Details
There are a lot of options in detail sanders.  Small as a toothbrush, or small triangles.  The B&D Mouse and all its variations that look like a small iron.  All of these are designed to help you with getting into tight spaces.  Add one, or more, of these, when you have a lot of detail work to do.
Tips for Success:
Use an anti-slip mat to protect your work piece from debris marks, and keep it from moving around on the bench.
Almost all sanders today come with a dust collection port.  Either use the bag, or connect it to your vacuum system to control the dust.
Wipe the surface down with mineral spirits to check for surface imperfections and check for swirl marks or scratches.  It won't raise the grain, but let it dry before going back to sanding.
I finish up by vacuuming the surface and wiping down with a tack cloth.
ALWAYS, ALWAYS wear a dust mask!  Wood dust can be a real issue, and many people develop allergies to it over time.
NEXT TIME – Let's talk sandpaper!!! I know it'll be rough…
Sorry about that bad pun.  Drop me a note and let me know what you think.  Any tips or recommendations that you'd add?